Back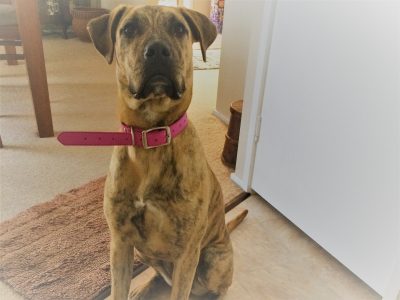 Gypsy Rose
Name: Gypsy Rose
Adopted: August 2017
Owner: Gai Roberts
My Story:
Hi, my name is Gypsy Rose and I have found my forever home with Mum & Dad, and I have a new life. But that life started a bit shaky until Hunter Animal Rescue and my foster carers, Sherry & Alyssia, gave me a new chance. Thank you.
Now I am about twice the size I was when adopted, go for big walks each day, play in the saltwater, chase seagulls (but Mum doesn't like me doing this), go to Dog Obedience Group weekly and I have learnt to sit, drop, stand, heel, leave (it alone – that's a tough one). Am learning stay – Dad's taught me a lot of this! Mum said this will start again in February and I might get to go up a class if I continue to be a good girl.
Oh, and I love to chew, did I tell you that? Plants, my rugs, thongs and my bed's foam – it looked like Christmas snow, so I thought it would be welcomed this time of year. No, they weren't happy. And I love to dig!
I love Rusty, he's fun and plays on the sand and in the water too – he's bigger than me and can play tug on the rope really good – I am working on dragging him with it, but so far, I get dragged. Oh, and I love Tilly and Bella, my Mum's best friend's dogs – they are small and fast!
I met Baxter the Cat – he's not keen on playing with me yet, but the next time I go to visit him I'm sure we will be bestest buddies. His poop smells good.
I love food – I eat cucumber, strawberries, cheese, vegemite on toast, the usual doggy foods, hamburgers (no onion please), apples, and there's so much more to try. I love cooked vegies!
I sleep inside, or outside. Mum and Dad put in a doggy door so I can play anywhere, anytime – but I don't know why they are grumpy at 3am when I come in to say hi to them.
I'd better go – there's a chew toy calling to me, then I think I'll nap, again.
It's a dog's life.
Wags to you, Gypsy.